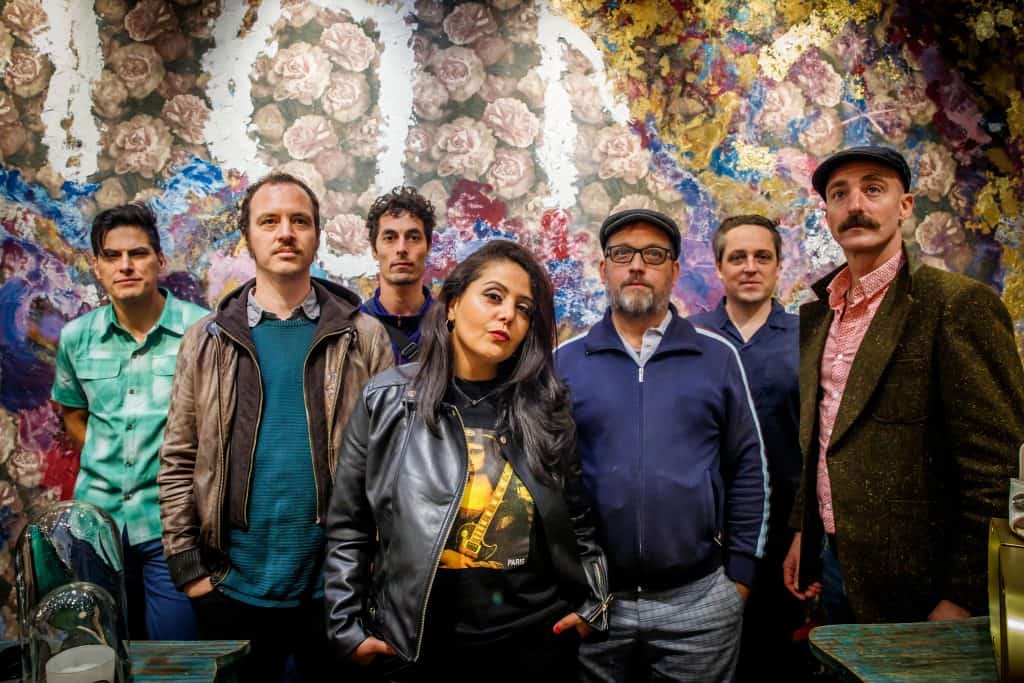 Gaïsha is the funky collaboration between the Belgian-Moroccan singer Aïcha Haskal and members of Les Cerveaux Lents, bringing you oriental & psychedelic grooves with a Brussels twist. The band switches seamlessly between Arabic chants, parlando and even rap. The diverse background of the members (Sylvie Kreusch, Absynthe Minded, Va Fan Fahre, De Beren Gieren) results in a brilliant melting pot of styles, flowing from spaghetti western to eastern vibes.
Les Cerveaux Lents was founded in 2002. The acoustic sextet trodded different musical paths, from Jewish-Arabic to Ethiopian sounds, creating an atmosphere that ran the gamut from intimate nostalgia to stirring rhythms punctuated with improvisation. But the accordion, acoustic guitar, and double bass are hanging upon the willows now and made a place for psychedelic sounds and funky grooves.
Their latest single (released on 7 inch by Zephyrus Records) is called 'Ghalat' and was written by the Egyptian poet Abdelhamid Farag, who calls himself a 'poète de l'éloignement'. His lyrics are permeated with deep melancholy and romance. The single is a tribute to Abdelhamid, who passed away in 2020.
In 2022 the band went into the studio to record their first EP that will be released in April 2023.
Aicha Haskal
From 2007 until 2013, Aïcha Haskal was a member of Va Fan Fahre. In 2010 they released the album 'Al Wa'Debt' together, which resulted in a surprisingly natural fusion between Balkan brass band and Arabic music. The album received critical acclaim and featured in the top 10 of the World Music Charts Europe for several months. The band toured in France, Italy, Croatia, Brazil, …
Musicians:
Aïcha Haskal – vocals
Eduardo Vega – guitar
Lieven Van Pee – bass guitar
Nico Leonard – drums
Falk Schrauwen – percussion
Michael De Schryver – organ/synths
Renaud Ghilbert – violin